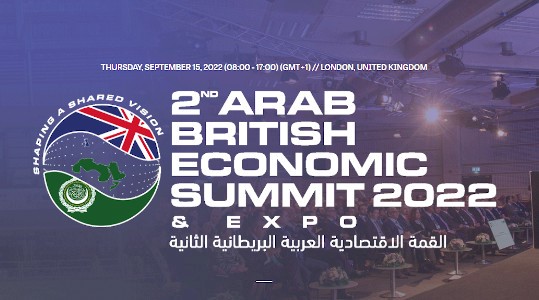 The Arab British Chamber of Commerce is organizing the second Arab-British Economic Summit 2022, which will be held on Wednesday 2 November at the Queen Elizabeth II Center, as part of the Chamber's ongoing activities to enhance cooperation between the United Kingdom and the Arab world.
The Summit, under the banner of 'Shaping a Shared Vision', will highlight the strategic UK-Arab partnership with a stress on how Technology and Climate Change are transforming the priorities of business and reshaping our commercial relationships. The event will seek to identify practical initiatives that can strengthen transnational trade ties and bilateral investment flows in the post-pandemic, post-Brexit low-carbon economy. Discussion will concentrate on healthcare, education, financial services, hospitality, real estate, transport and other key sectors.
This high-level event will bring together government officials, senior executives, thought leaders and decision-makers from across the UK and the Arab world to share their ideas and debate the diverse trade and investment opportunities that are emerging in the new emerging technology based industries.
We look forward to welcome you at this summit.
Agenda:
https://abcc.glueup.com/event/2nd-arab-british-economic-summit-abes-shaping-a-shared-vision-47350/agenda.html
For more details, please click the following link:
https://abcc.glueup.com/event/2nd-arab-british-economic-summit-abes-47350
---
Date published : 10 March 2022