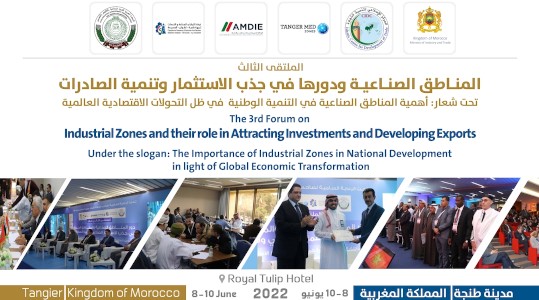 This forum is seen as one of the most important events of the Arab Industrial Development, Standardization and Mining Organization and the Chamber of Commerce, Industry and Services of the Tangier-Tetouan-Al Hoceima region, under the Memorandum of Understanding signed between the two parties, and will be convened over the period 8-10 June 2022, at Royal Tulip Hotel in Tangiers, Kingdom of Morocco.
This event has been receiving the attention of decision-makers in the Arab countries and a broad spectrum of industrialists, businessmen, investors and academics. A slogan is opted in every session to adequately address priority issues at the regional and international levels, and hold B2B meetings in the presence of businessmen and investors so as to stimulate investment opportunities in Arab countries.
After the success of the 1st and 2nd editions, the collaborators aspire to organize the third edition in Tangier, Kingdom of Morocco, over the period 8-10 June 2022, under the slogan "The Importance of Industrial Zones in National Development in light of Global Economic Transformation".
For more information and participation please click the link below:
---
Date published : 7 April 2022