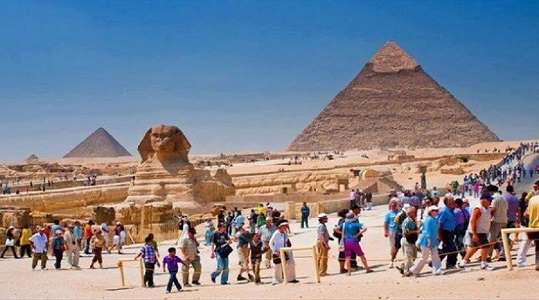 An Egyptian study prepared by the National Planning Institute of the Ministry of Planning showed that the tourism sector is the most affected by the consequences of the Coronavirus, and by 100 percent if the virus continues to spread until the end of December.
According to the study titled "The Repercussions of the Corona Virus Crisis on the Egyptian Tourism Sector", the number of tourists increased during the past year to 13 million tourists, an increase of 15 percent, and tourism revenues increased to 12.6 billion dollars in 2019, but the sector was affected during the current year by the spread of Corona.
The study shows that the first expected scenario depends on the resumption of economic activity, reducing the embargo, opening borders between countries, and starting foreign flights in mid-June or early July, and this does not mean resuming direct and rapid tourism activity, but it will be confined to businessmen and visits of relatives and families. The study estimated that the number of tourists in Egypt will not exceed 10 percent during the period from July to September, according to this scenario, which means that the losses of the tourism sector will reach 90 percent during this period.
As for the second scenario, which the study indicated, depends on the resumption of normal life and tourism activity during the last quarter of this year, with the virus still present in most countries of the world, where this scenario shows that the Egyptian tourism sector losses will reach 75 percent.
As for the third scenario, which is the worst according to the study, indicates the strong continuation of Coronavirus outbreak until the end of December 2020, which means a 100 percent decrease in tourist traffic.
Source (Al-Rai Newspaper-Kuwait, Edited)