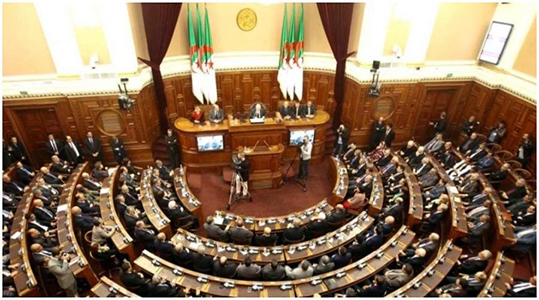 Members of the National Assembly (the second chamber of the Algerian parliament) approved by a majority, a supplementary budget law on austerity measures that sparked controversy in the country.
The "supplementary budget" law, which Algeria usually uses as needed, aims to approve new financial allocations, change revenue estimates, or to create other and authorize new expenditures. According to the law, increases will be applied to gasoline prices by 3 dinars (2.3 cents) per liter, and diesel by 5 dinars (3.9 cents) per liter.
The articles that stipulate reducing government spending by 50 percent, freezing recruitment operations in state sectors, and stopping cultural, sports and religious activities were not modified.
After the ratification, Finance Minister Abdel-Rahman Rawyah affirmed that the government seeks from behind the law to protect social and economic gains, within a path based on rational use of resources. Considering that the law came in a difficult economic circumstance after the decline in oil prices in the international market and the spread of the Corona pandemic, stressing that the supplementary budget measures aim to preserve the country's financial balances.
According to the supplementary budget law, the deficit will be 16 billion dollars (1976 billion dinars), compared to 1543 billion dinars (12.8 billion dollars) that were expected in the General Budget Law for the year 2020. While the country's revenue from hydrocarbon exports will decrease to the level of 17.5 billion dollars, down from $ 33.5 billion in 2019.
Source (Anatolia Agency, Edited)