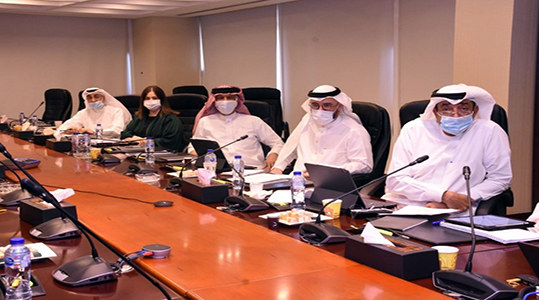 The President of Bahrain Chamber of Commerce and Industry, Sameer Abdullah Nass, confirmed the Bahraini Chamber's keen interest in addressing the various obstacles facing Bahraini business owners and the private sector in light of the current conditions facing the whole world as a result of the outbreak of the Coronavirus. During the 14th coordination group meeting of the current session (29) of the Chamber's Board of Directors, he expressed his deep pride and appreciation to the government and all official bodies, ministries, and institutions for their unlimited support to the Chamber and the private sector in their support for the Bahraini institutions and companies to address the negative effects of the Corona pandemic, and help them to maintain their continuity through a package of initiatives called for by the Chamber to protect traders and support their companies and commercial establishments to prevent them from being exposed to the risk of bankruptcy and closure as a result of the economic recession that most sectors of business and activities they are engaged in.
During the meeting, the results of the third report on the economic effects of the Corona pandemic, prepared by the Chamber's Studies and Initiatives Center, were reviewed on "The implications of the effects of the Corona pandemic on the private sector."
In this regard, the President of the Chamber praised the wide participation by business owners to answer the questionnaire, confirming that their participation is the best proof of their great awareness and confidence in their Chamber of Commerce. Adding that: "From our side at BCCI, we are doing everything we can to maintain the partnership with the government side and activating it by transferring the views and recommendations of the participants in this questionnaire to all the relevant authorities, and thus, the Chamber will be the platform of merchants and their place of trust."
Please click on this link to view the report
Source (BCCI Website, Edited)